WHAT ARE YOU HELPING TO BUILD?
UMCOR is in the business of rebuilding. We rebuild physical structures after a hurricane or tornado tears through a community. We rebuild standards of health by installing latrines and clean water systems. We rebuild a sense of safety after violence forces groups of people to flee their home. We rebuild livelihoods by improving agricultural methods and market access for families. We rebuild our planet from the effects of climate change by addressing wasteful consumption and locating sources of clean energy.

In your generous gifts and countless prayers, you play an integral part in this process of rebuilding. You help UMCOR to increase humanitarian assistance more fully and regularly by integrating immediate disaster response with long-range sustainable development.

All gifts made on UMCOR Sunday, March 31, fund the administrative costs of UMCOR. This ensures that 100% of additional gifts remain designated for specific disasters. As you encourage generous giving, consider using resources such as liturgy for worship, discussion questions for small groups, children's ministry bulletins and more.
UMCOR Sunday Resources ›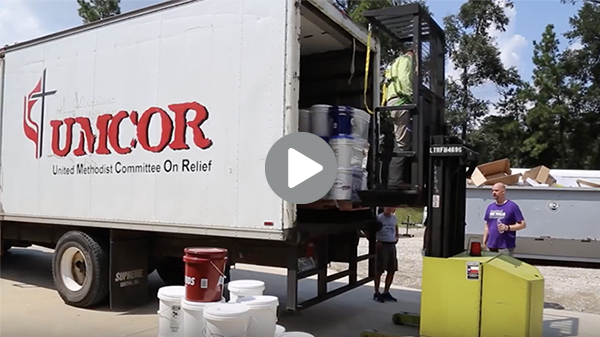 Why is the work of UMCOR vital in our world today?
Hands and Feet
In addition to giving financially to UMCOR, there are many ways to give of your time. Watch how-to videos on packing relief kits and read through a "know before you go" handbook on volunteering at a supply depot.
Early In, Last Out
Join us Wednesday, March 20, at 11:30 a.m. EST for a conversation about how UMCOR helps communities navigate their "new normal" after disaster hits.

GENERAL BOARD OF GLOBAL MINISTRIES